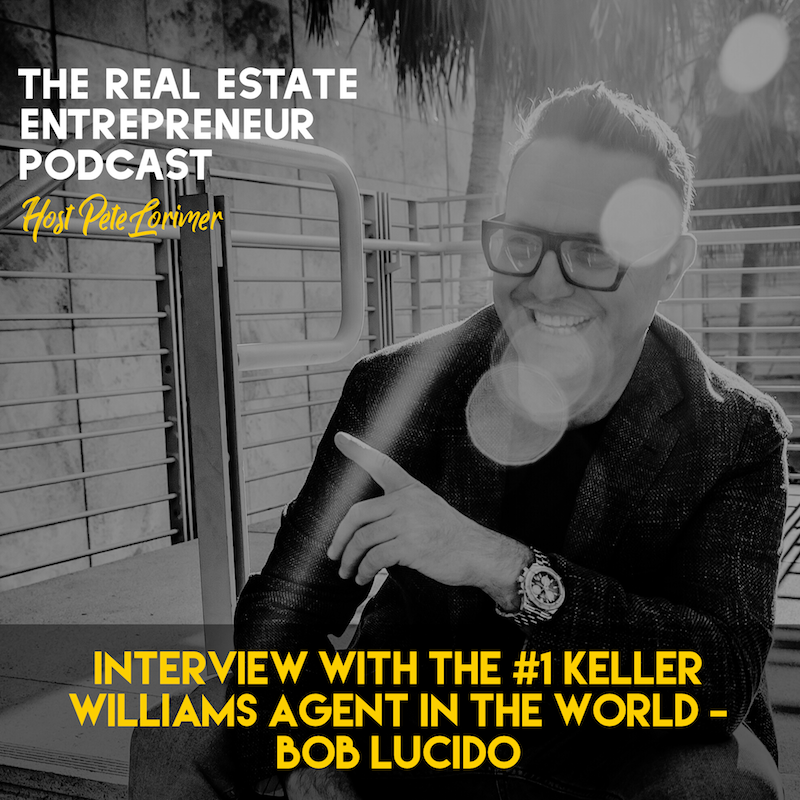 Greetings and welcome to the Real Estate Entrepreneur Podcast, I am your host Peter Lorimer, former hit record producer, now host of the show Stay Here on Netflix and owner LA's most creative boutique real estate firm, PLG Estates.
Bob Lucido started out in real estate at 18 years old. Bob and his wife own Lucido Agency, with over 150 agents across the country.
They partner with passionate agents and provide them with the service, tools, and support of Lucido's powerful full-service real estate team - empowering agents to deliver the ultimate real estate experience by providing incredible value and exceptional service to their clients.
Bob Lucido Team encompasses its Maryland agents and is also the headquarters. Lucido Agency encompasses all expansion agents across the U.S. and Canada.
He has 43 years under his belt in this industry, but you won't find him stagnant. An avid reader and a glutton for constructive criticism - he's constantly working to improve.
He contributes his success in real estate to surrounding himself with the right people. And the right people, in his opinion, care more about others than themselves. They have integrity, they're team players, coachable, and have a servant's heart.
If you ever find Lucido sitting by himself in a corner at Starbucks, you'll know he's implementing his trusted Starbucks Strategy. He's an appointment guy - always hankering for in-person meetings. My kinda guy.
The guy has no ego and no fear. I really enjoy talking shop with other real estate agents who really get it, and this conversation has me on cloud nine.
Thanks for listening. I'd love to hear what you think about this one, friends.
Golden Nuggets From This Episode:
[03:02] "Dinner always tastes better with friends" - Peter Lorimer
[04:40] "having the right people in your life - having coaches and support mechanism is incredibly important" - Bob Lucido
[07:06] "number one is integrity, Warren Buffett says if they don't have that the interview is over" - Bob Lucido
[07:26] "if they're not a team player that's a cancer to any organization" - Bob Lucido
[08:41] "nobody works for me I work for everybody else" - Bob Lucido
[10:59] "There's only success in action, we can't think our way into right action, but we can act our way into right thinking" - Peter Lorimer
[13:33] "but now there are a myriad of online outlets that in my opinion are selling poor to very poor leads, and all that doing is evaporating the hours in the day that I have" - Peter Lorimer
[23:44] "I don't believe you've ever arrived you're always getting there" - Bob Lucido
[30:35] "You either alive and growing or dead and dying" - Bob Lucido
For more info on Bob: 
Bob Lucido Team
Facebook: @BobLucidoTeam
Instagram: @BobLucidoTeam
Website: BobLucidoTeam.com
Lucido Agency
Facebook: @LucidoAgency
Instagram: @LucidoAgency
Website: LucidoDifference.com
Thanks for being here:
❤️ Pete