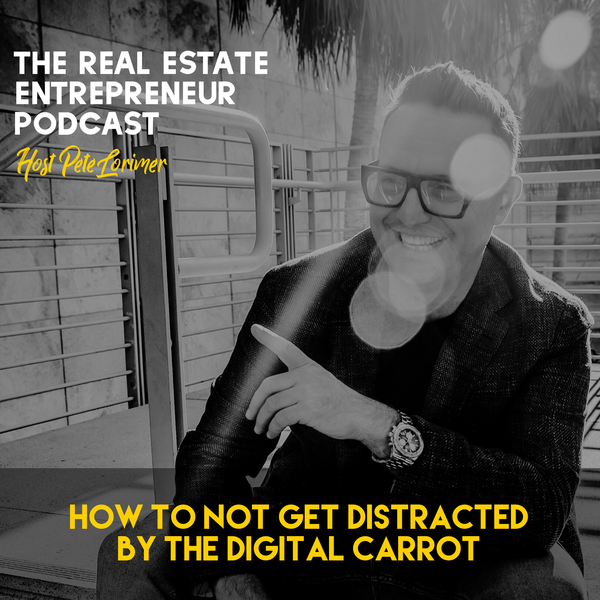 Greetings and welcome to the Real Estate Entrepreneur Podcast, I am your host Peter Lorimer, former hit record producer, now host of the show Stay Here on Netflix and owner LA's most creative boutique real estate firm, PLG Estates.
I've seen many agents chasing shiny new objects. There's an epidemic of Shiny New Object Syndrome.
Sure, there are definitely techniques we can use to enhance technology and further our relationships with our clients. But if we try to compete in the binary world, we'll never win.
We're going to fail if we try to be better than tech.
Think about the doctors, lawyers, and other professionals you work with. We all work with people that we trust and people that have empathy for us. Personal interactions will always get the most value.
But you can use technology to create more opportunities for personal interactions. How? The drum I won't quit banging on. Social media. Social media demonstrates who you are. Optimism, belief structures, compassion, parenting.
Who cares if you there's a platform that can make a transaction a little quicker? Stop having sterile interactions with your clients. Take the time and book a phone call or a video conference.
We are peddlers of trust--no computer can do that. As long as trust, compassion, empathy are arrows in our quiver, our future is bright.
Stop underselling your business. Don't blend in. Stand out. #boutiqueisbetter. Here's this week's episode of the Real Estate Entrepreneur Podcast.
Golden Nuggets from this episode:
[03:47] "as human beings if we chase after doing what computers can do better than us we're gonna fail."
[05:42] "I have three children, if one of my kids get sick I'm not gonna hit an Uber doctor for the most convenient doctor that's around the block. I'm gonna go to someone that knows my family, that I like, that I trust, that has empathy for me, that is gonna only want the very best for me and my family."
[07:24] "When I'm buying a car, right, I still need to look into the dude's eyes or the woman's eyes as they give me the keys and go if something goes wrong I can bring this back right I need accountability I need to look at someone and feel some kind of trust and compassion."
[08:49] "the commodity that we have that has the most value is personal interaction."
[11:48] "we are peddlers of trust there is nothing that can replace that, no computer can Uberize our trust and no computer can Uberize our empathy."
[13:03] "boutiques are flourishing better than they have done in years and the giants of filing for bankruptcy"
Thanks for being here ❤️
Pete