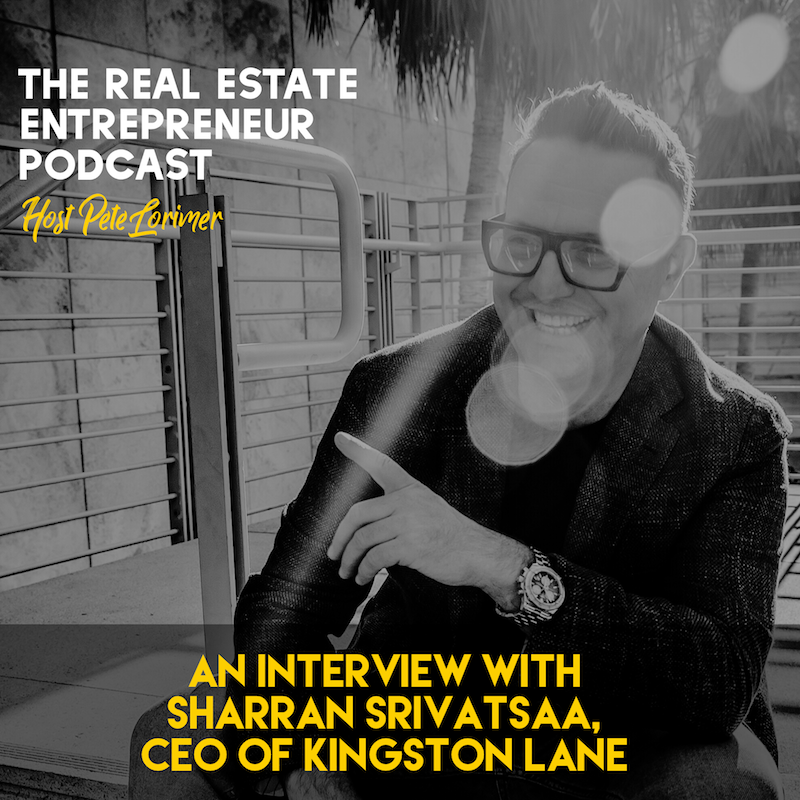 Greetings and welcome to the Real Estate Entrepreneur Podcast, I am your host Peter Lorimer, former hit record producer, now host of the show Stay Here on Netflix and owner LA's most creative boutique real estate firm, PLG Estates.
His is a great story about insurmountable odds, optimism, and authenticity.
He was bullied throughout his entire childhood, he came to the United States with a check for the first year of school and a suitcase, and he built a company that grew by 5x in a few years.
After 39 one-on-one interviews and intense training he learned deal structure from the inside out at Goldman Sachs. He then took that knowledge to help build things
He's a builder; entrepreneurship is in his blood. And when he learned to not just solve problems but to solve problems for a profit, everything changed.
We even got a little vulnerable in our conversation and talked about the Imposter Syndrome. It haunts entrepreneurs who have a difficult time internalizing success, but Sharran says it also keeps us humble and kind. And kindness wins.
Another thing that wins: cadence - showing up every single day, putting yourself out there. In short, show up.
Hearing stories from the great entrepreneurs of our time has me feeling super thankful. I hope you'll find time to listen to this one, it'll be worth it.
Golden Nuggets from this episode:
[04:09] "A lot of times people use the word entrepreneur as a badge of honor" - Sharran Srivatsaa
[05:36] "People only look at the success stories" - Sharran Srivatsaa
[19:36] "Right before I go to bed, I actually play the movie of my morning in my head with my eyes closed"
[27:48] "The world is changing so fast, that I wanna see what sticks, what works" - Sharran Srivatsaa
[31:38] "and so now when someone is actually spending a 1000 dollars running a facebook ad, they are like -oh, facebook leads suck! and I'm like: "you don't have a system to nurture them." -Sharran Srivatsaa
[32:52] "back in the days, we just wanted the phone to ring, now we get bombarded with all sorts of leads" - Peter Lorimer
[33:53] "press a button, it auto SMS them saying: Hey I'm working through a few things for my private clients this evening, I'm just gonna try if you're available between 6:00 and 8:00 pm, no pressure", now if you do that and then call them, it's a completely different call night" - Sharran Srivatsaa
[35:45] "I win everyday because I show up every single day"- Sharran Srivatsaa
Thanks for being here, 
PL