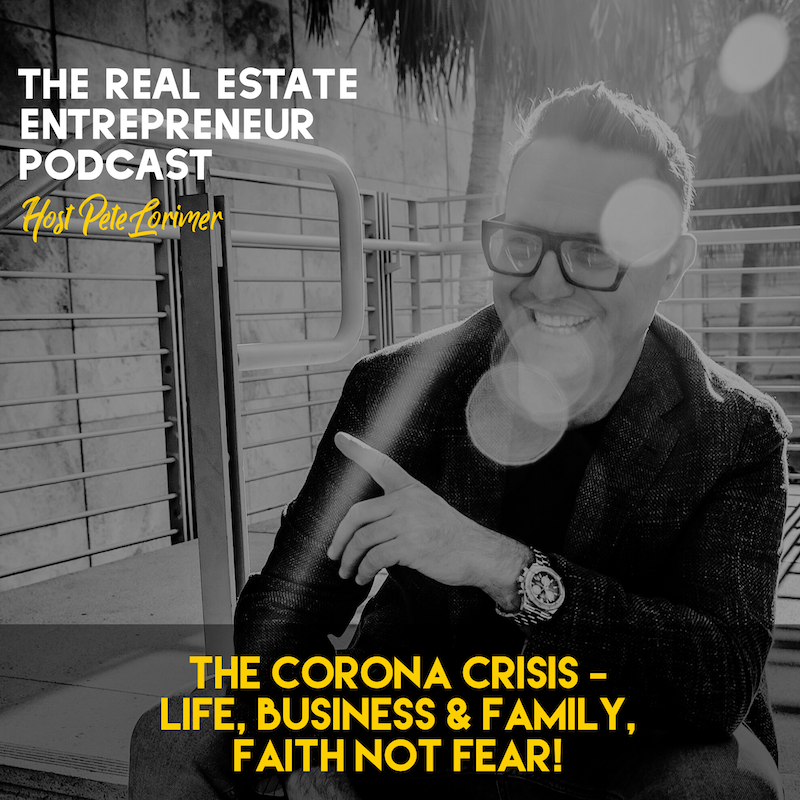 Greetings and welcome to the Real Estate Entrepreneur Podcast, I am your host Peter Lorimer, former hit record producer, now host of the show Stay Here on Netflix and owner LA's most creative boutique real estate firm, PLG Estates.
Take a deep breath. Pause. It's not time to react. Let's give ourselves a collective moment and gather some clarity of thought.
There's a whole heap of unknowns out there right now.
Here's what we do know:
1. That we don't know much.
2. We need to practice safe social distancing.
Over the past several years, we've all been going, going, going. It's time to stop. We're going to have to relearn this, I think.
It's time to breathe, and it's possibly time to create. To innovate.
How is business going to be affected? We just don't know. We know that many businesses and hourly employees are struggling right now... and that should urge us to ask how we can help.
What does this mean for real estate? Again, it's too early to tell. BUT - this too shall pass.
Whenever I have decisions to make, instead of knee-jerking, I do nothing. When in doubt, do nothing. My instinct tells me that we will see a path for the better or worse by the end of the week.
So, let's see how it shakes out. Let's wash our hands, practice social distancing, continue with business as usual, and do something meaningful with the time we're gaining from not having to commute or take kids somewhere.
And let's remember: there are men and women sacrificing their lives and days and nights to keep us healthy. Healthcare workers, food service employees - thank you.
I refuse to let this inject fear into my life. Faith over fear, my friends.
Golden Nuggets from this episode:
[02:26] "This too shall pass, what it means to me is even though we are in a moment where we wanna run down the street with our hair on fire thinking: "what's next, this is the end of the world", my belief structure and this is only my opinion, I believe this will pass. Yes we will be forever changed by this event, for the positive or for the worst had yet to be determined."
[03:26] "I feel the government are looking to prop up business with interest rates and, I kind of speak from the heart because I at the moment myself I'm in escrow on a new home.
[04:06] "When in doubt, do nothing."
[04:41] "I also believe in the power of the pause, right now none of us can predict where this is gonna go. So when I need to ponder a decision, I do just that, I take a pause."
[05:23] "Obviously all for us at PLG Estates are now working virtually and we are all practicing safe social distance."
[05:45] "I as a private citizen, will not be taken down by this. I refuse to let this inject fear into my life. I am a man that has always made decisions based upon faith and never fear, and that will not change today"
Thanks for being here,
PL